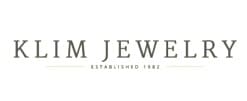 The entire staff are graduates from the prestigious Gemological Institute Of America. GIA is a non-profit institute and the leading source of knowledge, standards, and education in gems and jewelry. We pride ourselves in taking the time to educate our customers on the 4 C's — Cut, Color, Clarity & Carat, so they can choose the perfect piece.
About Us
Elegant design and superb quality are the hallmarks of Klim Jewelry. Owners Ruben and Rosa are proud of the heritage and tradition their family-owned business represents. Ruben's father Klim opened the original store in Long Island in 1982 bringing years of craftsmanship to the business that he learned in Uzbekistan. As a child, Ruben learned from his father and began crafting his own jewelry and joining Klim at the store at age 14. Rosa also worked in her family's jewelry business since childhood. Married in 1995, they joined forces and continue to share their vision together as one of the last remaining "full service" jewelry stores in New York's Diamond District.
Klim Jewelry still masters the art of creating custom, hand-made pieces that turn their clients' dreams into reality. Ruben is one of the few artists/designers that can still be seen at his bench practicing his craft. Klim Jewelry still family owned and operated, and the team approach has served their loyal customers for over 30 years.
We are committed to providing the finest quality craftsmanship and service excellence that has been the hallmark of Klim Jewelry since 1982. The referrals of our delighted customers speak volumes to our honesty and integrity and continue to be the foundation of our growth.
Contact Info
Booth Number: MN-39 & MN-01A
Phone Number: (212) 869-3950
Email Address: sales@klimjewelry.com
Website: klimjewelry.com