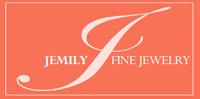 After an extensive career as a successful corporate finance attorney with a major international law firm, Catherine Marion decided to pursue her passion for jewelry and design. She studied at the Fashion Institute of Technology where she received her degree in Jewelry Design in 2007. She started her own company, Jemily Fine Jewelry (named after her daughters) and has a showroom in New York's Diamond District.
She works mostly in 18K yellow gold and uses conflict-free diamonds and other precious and semi precious stones, each personally hand-picked by her. She has been collecting gemstones for over 20 years and has an extensive selection of rare stones used in her own designs as well as in custom designs for private clients.
Her designs have received critical acclaim and she has received a number of awards for her work. Her designs have been featured in print magazines such as Vogue, World Bride Magazine, the Tatler, Departures Magazine, Sotheby's, New York LifeStyles Magazine, Millennium Magazine and InStore Magazine as well as in online publications and blogs such as Caviar Affairs, The Elle Diaries, the Buzz, and Hudson Mod.
Her designs have been worn on the red carpet and other celebrity events by LaChanze, Cynthia Bailey, Alyson Cambridge, Ann Curry, Rachel Grant, Nieve Corrigan and Allegra Cohen.
Contact Info
Booth: MN-7 A
Phone: (973) 879-8689
Email: info@jemily.com
Website: jemily.com